Wade Trips
Moving water adds variety to your fishing and there is nothing more soothing than wading a trout stream. French Creek, Manatawny, Penns, The Little Schuylkill, & Tulpehocken are great streams to wade fly fish. Wading provides us the opportunity to cover great stretches of water with stealth and patience.
Kayak Fly Fishing
Want to get to the spots where no one else can? Jump into one of our top of the Line Sit-On-Top Fishing Kayaks and fish comfortably as we float to wading locations for Trout and/or Smallmouth. Kayak Fly Fishing is also available on our local Lakes for largemouth
Jet Boat Fly Fishing
Float down the Schuylkill to Fly Fish for Smallmouth or jump aboard and hit the Lake for Largemouth! Our 16 ft Flat Bottom  Jet Boat can be booked for up to 2 Fly Anglers & 3 for Spin Fishing.
1/2 Day | Full Day | Overnight & Weekend Trips
Schuylkill River & Little Schuylkill River
French Creek
Penns Creek & Spring Creek
Tulpehocken
Travel
Hay Creek & Manatawny
Scotts Run & Hopewell Lake
& More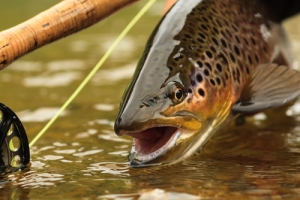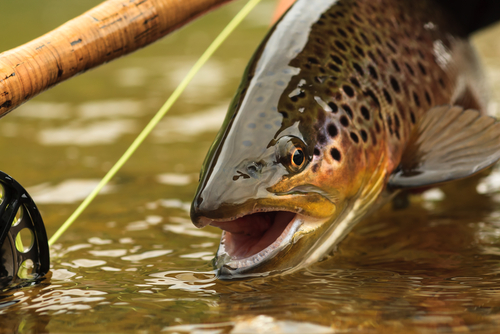 Trout
The Little Schuylkill, Tulpehocken, Manatawny, French Creek, Penn's Creek, Hay Creek, Scott's Run, Spring Creek & more! We guide on all trout waters in Southeastern Pennsylvania and Select Central Pennsylvania Waters. Trout fishing in Berks, Schuylkill, Chester, & Montgomery County have long been underestimated as areas with great Trout Fishing. Top Water guides and teaches on all of these waterways and offers Wade Fly Fishing Trips, Jet Boat Fly Fishing, & Kayak Fly Fishing for Trout.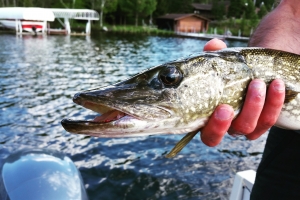 Musky & Pike
Musky are often the Apex Predators of whatever freshwater they inhabit and are some of the biggest and most exciting fish to chase with a fly rod. Many times they are difficult to catch on a fly rod. With Top Water, we will show you how to land and catch Musky on big waters like Marsh Creek. Take a trip on our 16 foot Flat Bottom or Fly Fish from one of our kayaks to find these predatory and hard fighting fish!
Smallmouth
The Mighty Schuylkill River is our favorite Smallmouth Bass Waterways and produces hefty numbers of strong and sizeable fish. In rivers, smallmouths are typically active all day long, even in the heat of summer. So your best bet for summer smallmouth fishing is to find a river with a rocky bottom, clear water, and midday water temperatures that stay below 75 degrees. Your Top Water Guide has been fishing the Schuylkill for over a decade and knows where and how to find these aggressive and fun fighting fish!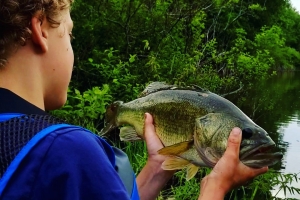 Largemouth
Marsh Creek and Blue Marsh are our target waters for Largemouth. Learning how to fly fish for bass is a great introduction to the sport of fly fishing. We believe that it's best to start out on a pond with bass or panfish instead of on moving water. Fly fishing for largemouth and smallmouth bass is a wonderful way to spend a quiet afternoon and most people have them close to home so it's a way to get out and try your newfound skills right away.
Customizable Trips
Customize your Fly Fishing Trip to fit your exact need. Want to build a lesson into your Guided Trip or want to take someone with you who may not be as experienced? We offer trips and lessons for all ages, experience levels, and desired trips!
Spin FIshing
All Trips listed above are also available in the standard fishing style of Spin Fishing. We book a lot of Smallmouth Spin Fishing Trips on the Schuylkill River as well as Lake Kayak Fishing Trips for Largemouth & Musky. Kayak to Wade Fly Fishing Trips are frequently booked as well and provide an opportunity to fish secluded waters in remote areas untouched by the everyday angler. Prices Vary on Spin Fishing & Fly Fishing Guided Trips