Blue Marsh Bass Fishing
Written By: Kevin Moriarty | Owner & Guide of Top Water Trips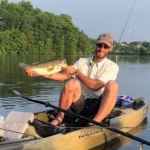 Intro to Bass Fishing Blue Marsh
Located in Western Berks County, Northwest of Reading Pa, Blue Marsh Provides a variety of fishing, boating, & kayaking opportunities. Blue Marsh has been subject to a bad reputation of the years. But, when fished properly, this over 1,100 Acre Lake provides some great opportunity to land some nice sized bass. The Tulpehocken Creek feeds this lake and the Tully is maintained by the Blue Marsh Stilling Basin off of Palisades Drive.
Baits & Techniques for Blue Marsh Bass Fishing
Ned Rigs & Drop Shots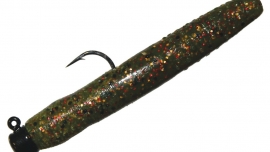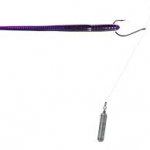 Blue Marsh provides some very interesting & copious lake structure to target. There are many deep ledges/banks and submerged structure to pinpoint when using these techniques. So, having a Fish Finder can be a great asset when fishing these techniques off secondary points and deeper structure. Fishing Blue Marsh has many submerged tree stumps and old tree roots that these Bass love. When they let the water down for the winter you can see these submerged tree stumps. This is a great lake to scope in the wintertime.
     When choosing weight sizes for Drop-Shots, I prefer weights on the lighter side. I have always oriented toward finesse falls vs power punching, fast falls, and heavy jigging. But, that's not to say that those techniques don't have utility because they certainly do. Another good tip is to use lighter/low vis line, we usually choose 6-8 pound line. There are many variations to these techniques that we implement. For example, we have had success using 2.5-3 inch Curly Tailed Grubs and ripping them through the shallows. While fishing Blue Marsh in certain Spawning areas this has been a successfull strategy. It allows us to cover large flat areas where bass are spawning in a variety of areas within a given cove. But, in general, we use these techniques off of deeper points, drop-offs, steep banks, & isolated structure. 
FInesse worms, 8-10 inch Trick Worms, & Caffeine Shads have proved successfull for our Drop Shotting baits.

YUM DINGERS
At Top Water, we fish this brand & style of worms in Shallow Water & On Spawning Beds. We love rigging them wacky style and using the skipping technique to slide them into tight holes, pockets, & underneath the heavy tree cover. We also use Senkos when fishing in deeper water, 7-10 ft. I like the Yum Dingers in Shallow water because they sink slower, the Senkos from Gary Yamamoto sink much faster and are great for falls off ledges & weed beds. So, when it comes to worms, the brand we use depends on variables like water depth.
But for shallow Bass Fishing Blue Marsh, we prefer the Yum Dingers. Our favorite and most productive color is Green Pumpkin. In our Kayak Bass Fishing Lessons, we cover how important it is to be able to stand and skip these baits into tight holes. Top Water Trips Kayaks are top of the line and meant to stand-in. So investing in one that is wide & stable will really open up your ability to put these Yum Dingers into some crazy tight places