Nucanoe Flint Kayak Review
Our Rating for the Nucanoe Flint
Overall Rating- 8.9/10
Ease of Transport | 10/10
Ability to Customize | 9.5/10
Deck Space | 9/10
Comfortability & Seat | 8.5/10
Stability | 8.5/10
Pricing | 8.5/10
Tracking/Paddling | 8/10
Ease of Transport
The NuCanoe Flint is lightweight coming in with a Hull Weight of 63 Pounds and a length of 11ft 3in. The fact that this boat is lightweight makes it easy to move on top of a small sedan to J-Racks, or to the bed of your truck with no problem at all! No trailer is needed for this Kayak! Unless you have it fully loaded up with all the options it has to customize!
Ability to Customize
The Nucanoe Flint has Freedom Tracks spaced out from the front, middle, and all the way in the back which makes it great for adding whatever you need to your boat! One of the things we love about NuCanoe as a brand & dealer is that they offer a wide variety of Products/Boat Specific parts, add-ons, & accessories; Anchoring Systems, Casting Bars, Seats, Rod Holders, Hunting Accessories, and more! There is no need for aftermarket parts that aren't guaranteed to fit! NuCanoe's website has all of what you'll need and offer the parts to fit your specific NuCanoe!
Deck Space
One thing we love about the Flint Model is the Deck Space! It's wide open, with no cheap plastic foot peg rails, or clunky storage containers that just get in the way. You can easily fit 1 tackle box on each side in the tackle pocket and 1 large box under your seat. We love the fact that this boat has 4 low-angled rod holders in the back! Just make sure your rods are fully set down in the slots so they don't fall out!
We are minimalists on the water, we have our baits dialed on, and don't typically carry more than 1 big tackle bag, cooler, fishing net. & 2-3 rods on the water. Which for most should be plenty! But, if you are planning on camping, or are an "Over-packer" bringing the garage out onto the water think about the Frontier 12! It will have more room for all your stuff!
Comfortability & Seat
The Fusion seat is wide, high-backed, easy to adjust, well-made, and comfortable. It sits a bit higher than traditional seats which I like. But, if you like to sit lower in the Kayak the Fusion Seat, unfortunately, does not have a high adjustment. But, you can upgrade your seat with NuCanoe and the Height Adjustment Kit which can allow you to Lower it by a Max of 4 inches or Raise it by 1-2 additional inches. Not many other kayak seats have Customization like the Fusion & Fusion 360 Seat to fit your specific needs!
Finally, be careful when adjusting your seat forward and back on the Freedom Tracks. Make sure the seat is unscrewed far enough to make sure you don't rip or tear the Decking Kit when sliding back and forth!
Stability
The NuCanoe Flint comes in at 33″ Wide, which is great for most average size individuals and it is hard to flip! If you are long-legged, taller than average, or just a larger person in general you may want to consider the Unlimited or Frontier 12 if you like NuCanoe! This boat is plenty stable to stand in, kneel forward, or reach back to grab a tackle bag without worry. But again, if you are bigger than average I would suggest a longer or wider boat!
Pricing
These days, any Kayak worth its salt is likely to be $1,000+ at minimum. Coming in at an average base cost of $1,199.00 the NuCanoe Flint is absolutely Priced Fairly. In addition, the NuCanoe Flint is on the lower end of the cost curve for most boats in its class. For a REAL DEAL Sit-On-Top Fishing Kayak, you cannot go wrong with the Flint. Presently, $1,200 is not nearly as steep as other Sit-on-Tops out there. In conclusion, we like this price point and believe it to be beyond fair relative to a lot of other Sit-on-Tops out there.
Tracking/Paddling
The Molded & Built In Angled Foot Pegs are great because they provide an easy, natural position for your feet. Given that, this helps to properly leverage your paddle strokes with your feet and not wear out your arms. This boat paddles and turns well because it is lightweight. The tracking is solid with a sharp pointed front end. Many fishing Kayaks have a rounded-off bulky front end that doesn't cut through the water well and takes a bit more effort to get going. This Model has some decent speed relative to many other fishing kayaks.
Windy days on the river or lake are a bit tough for this boat at times. Its lightweight nature makes it susceptible to drifting out of position easily. If you are comfortable with anchoring, we typically suggest it when conditions are safe, to help reduce drift on those crazy windy days.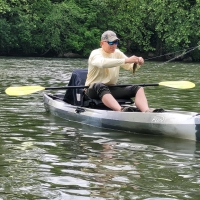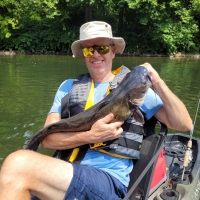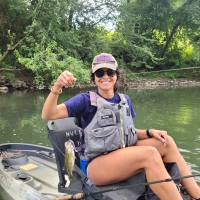 How We Rate Kayaks
We review & rate Kayaks based on our experience with them on Privately Guided Trips & Lessons on Rivers and Small Streams in Pennsylvania. We only rate Kayaks that we have had in our Fleet and used on the water for at minimum, 1 Full Year. Our client's responses, comments, & overall experience with each Kayak are also factored into our ratings.
One of our Goals is to provide unbiased reviews as we are not paid to write these. With each rating, out of 10, we explain in further detail the pros and cons of that rated section. Finally, we hope you enjoy these reviews as they are provided solely to help you find the right Kayak for you! Feel free to call or email if you have any questions or need help finding a boat!
Kevin Moriarty | Owner & Guide
484-335-8883
Topwatertrips@gmail.com
A quick Note About Us
Top Water Trips is a Private Fishing Charter & Guide Service in Southeastern Pa. We offer Fly Fishing, Spin Fishing, Kayak Fishing Trips & Lessons, Boat Fishing, & Wading for Trout, Bass, Musky & Catfish.
Follow Us | Facebook | Instagram