A Message from Kevin- Your Pennsylvania Fishing Guide
Hello, my name is Kevin Moriarty! Your Pennsylvania Fishing Guide here at Top Water Trips
I grew up on the edge of the Oley Valley and spent most of my time fishing with my dad. He introduced me to fishing, just as his father did for him.  My buddy Jesse introduced me to fly fishing; he laid the groundwork for the fly fishing knowledge I have today.  As time has passed my interest and passion for angling has grown. My experience ranges from Fly Fishing Guide School In Montana to competing in professional kayak bass fishing tournaments around Pennsylvania and the East Coast.
I am a certified Wilderness First Responder and am trained and certified to guide overnight, daily and weekend trips. My training in river entomology, knot tying, drift boating, jet boating, wilderness medicine, fly casting, kayaking, cooking, ServSafe food handling and food safety management have been indispensable. I also received my Associates in Business, graduating Cum Laude from RACC.
My ideal day Fly Fishing is hitting the water early, double hauling 10-inch flies for Musky on my 10 weight. Next, jumping in the kayak and floating the river, fly fishing and spin fishing for Smallmouth. Finally, I'll go out in the evening to throw dries with my 5 weight at rising trout. And In the Berks, Schuylkill, and Montgomery County Fisheries, it is possible to do all this in a day!
All of my training, education, and experience have been geared towards owning and operating my own guide service, adopting meaningful responsibilities, sharing my knowledge, and providing a service unparalleled in Pennsylvania. I have a ton of fun on the water; its where I find myself at home. So come on out with me and get on the water! Right on!
Additional Information on Fishing Guides in Pennsylvania
A variety of training is needed to become a Guide. Insurance played a big role in getting my Pennsylvania Fishing Guide & Charter License. To become a Pennsylvania Fly Fishing Guide requires no extra qualification. But, I wanted more training as a Fly Fishing Guide, so I went to Guide School on the Bighorn. It was an etremely important experience in becoming a Fishing Guide in Pennsylvania. I would suggest anyone looking to become a Pennsylvania Fishing Guide to go to Guide School!
Check Out our Social Pages!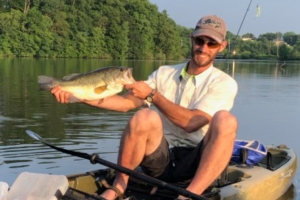 Join our community!
stay up to date with all the latest
Top Water Trips news!