Marsh Creek Bass Fishing
Written By: Kevin Moriarty | Owner & Guide of Top Water Trips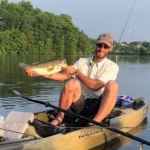 An Intro to Bass Fishing Marsh Creek
     Marsh Creek State Park is located in Chester County Pennsylvania and is over 1700 Acres. It provides many Kayaking, Boating, & Recreational Fishing Opportunities. In this article we cover some areas that are great to fish, we also cover some techniques and tips that will help you get some more bass in the boat. This is an introductory/base-level guide to helping people try some new tactics and land some fish! These are not our only techniques at Top Water Trips, but just a few we wanted to share!
BAITS & TECHNIQUES for Bass Fishing Marsh Creek

YUM DINGERS
At Top Water, we fish this brand & style of worms in Shallow Water & On Spawning Beds. We love rigging them wacky style and using the skipping technique to slide them into tight holes, pockets, & underneath the heavy tree cover. We also use Senkos when fishing in deeper water, 7-10 ft. I like the Yum Dingers in Shallow water because they sink slower, the Senkos from Gary Yamamoto sink much faster and are great for falls off ledges & weed beds. So, when it comes to worms, the brand we use depends on variables like water depth.
But for shallow Bass Fishing Marsh Creek, we prefer the Yum Dingers. Our favorite and most productive color is Green Pumpkin. In our Kayak Bass Fishing Lessons, we cover how important it is to be able to stand and skip these baits into tight holes. Top Water Trips Kayaks are top of the line and meant to stand-in. So investing in one that is wide & stable will really open up your ability to put these Yum Dingers into some crazy tight places
Lixada Segmented Lures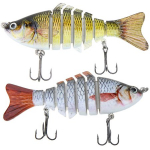 First and foremost…Do not expect this lure to do the work for you! These Baits are great when a "swimming pattern" is identified. If you cast these out and straight up reel them in without any additional action they look rather lifeless. I don't fish these in crazy deep water. We aim to fish them along shallow to medium depth ledges, along submerged visually obvious logs, and along the deeper side of weed-beds. At Top Water, we have found Lixada Baits to be very versatile.  And they aren't very well known it seems when we introduce them to clients for our Booked Kayak Fishing Trips.
This bait can be waked off of the top or sank slowly into deeper water. Consistent patternization with this bait, we have found, is the key. Trying different speeds, rod angles, and depths will help you find success with this bait. One I use often is keeping my rod tip high in the air keeping the bait toward the surface of the water. Then I tap my rod back and forth (toward me & away from me) as I slowly pop my bait in toward me. Action like this, gives this bait amazing action and really gets it turning from side to side. Think of it like walking a Top Water Frog, but with your rod tip high in the air and at a faster pace.
Spinnerbaits

Spinnerbaits of all Sizes, Shapes, & Colors can catch you a ton of fish across a variety of Species on Marsh Creek. This Marsh Creek Fishing Tip will cover Musky, Bass, & Perch. There are a ton of Perch on Marsh Creek, and Mini/Small Spinnerbaits can catch you a bunch of Perch. Medium to large size Spinnerbaits caught most of the Bass in this post. The others were caught on Yum Dingers rigged Wacky Style. From Pre-Spawn to the warmer days of September & October we have caught some monster-sized 5-6 Pounders. Try a variety of colors, our biggest Marsh Creek Largemouth have come from the same (red & white) pattern shown above.
We have caught some of our biggest bass while on Musky Fishing Trips fishing 1oz Spinnerbaits like the Cabelas Fishermans Series Spinnerbait.  So try different sizes, don't be afraid to throw some monster-sized Spinnerbaits. Because, big splashdowns can create a predatory reaction strike from some huge bass. We run these baits off of ledges, weed beds, and use a quick pick up technique to use them in shallower water.
NORTH ARM OF MARSH CREEK IS A GREAT AREA TO FISH PRE-SPAWN & DURING SPAWN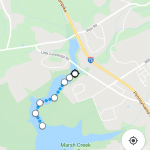 MARSH CREEK BASS FISHING TIPS CONCLUSION…
Try things out! Different sizes, shapes, & colors…But these are three baits and a few techniques we have found successful and wanted to share them with you! Get out there on the lake and figure out what works for you. This article, Marsh Creek Bass Fishing Tips, comes from a culmination of years of fishing and patterns extracted over time. We go into every fishing experience expecting to learn something new and unsheathe fresh techniques, nuances, and styles. So, get out there and find what works for you!