Fishing the Little Schuylkill River
Intro to Little Schuylkill River Fishing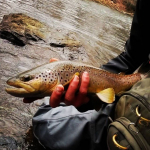 The Little Schuylkill River starts from up above Tamaqua making its way through the Lower Section of the Blue Mountain Range on its way to Port Clinton where it meets with the Big Schuylkill. The Little Schuylkill River is a hidden gem in Schuylkill County. This stream has had an amazing rebound from years of mine drainage runoff and anthracite coal mining in this region of Pennsylvania. We have found a healthy population of Wild Brown & Brooke Trout and holdovers both above and below the Dam in Zenner's/South Tamaqua. This Freestone Stream provides many aquatic insects & hatches throughout the Spring, Summer, & Fall
Sections of this Article
Fly Fishing/Wading Locations
Flies We Use
Kayaking
Stocking Locations
Important/Additional Wading and Fishing notes. 
For Flow Levels Click Here
Wading Spots
    There are some great wading opportunities on the Little Schuylkill that we wanted to provide you with, Here are 3 locations to check out when looking for wading spots-
  Middle Stretch | 40.688105, -75.999935  At This location you'll find easy parking not far from the water. This spot is behind the Firehouse in New Ringgold. Behind the Park, you'll find trails that lead to the water and a nice stretch of water that is easily wadeable just above the stocking section in New Ringgold. 

Bottom Stretch | Port Clinton Stretches Through this Port Clinton Stretch you find a number of parking spots along Penn Street by the River.  This stretch (upstream from the mouth to behind 3C's Restaurant) has provided great success. In the Spring & Fall, this area brings a lot of rising fish. Bring a Wading Staff & a few Quills! This stretch is slick.

Upper Stretch | Tuscarora Park Road – You Will find parking by the railroad tracks here. In this stretch, you'll find some nice wild fish.  Certain parts of his stretch have some nice holes, dump pockets, and big drop-offs so keep an eye out.
Flies to Use
Midges- we almost always have a midge hanging or dropping in our rigs-
Size 14-18 Pheasant Tails
Little Black & Early Brown Stones
BWO's
Streamers- Nymph Style Fishing Streamers- Cast upstream and drift Green/Black/Olive Streamers- We have had great success with this tactic. 
Size 14-16 Ginger | Red | Brown Quill Patterns
Green Caddis Larvae- One of my Favorite patterns in the middle & lower stretches- Sizes 16-18
       
Little Schuylkill Stocking Locations
1.) Upper Limit Lat: 40.8093, Long: -75.9957     Lower Limit  Lat: 40.7961, Long: -75.9663
2.) New Ringgold Lat: 40.6871, Long: -76.0024     Rauschs  Lat: 40.6683, Long: -75.9959 Special Regulation Area
3.) 1.1 Miles Upstream from mouth  Lat: 40.5939, Long: -76.0272  Mouth of the Little Schuylkill Lat: 40.5786, Long: -76.0265
Important Note for Wading
Look out for Private Property. There are a lot of great wading locations that would include trespassing on Private Property. So, look for signs and ask for permission. In my experience, everyone I've met along the Little Schuylkill has been very nice. I have been denied at potential access points so please respect the private property along the river. So, because of this, we love to Kayak Fly Fish down the Little Schuylkill. 
Kayaking
If you are looking to Kayak the Little Schuylkill please check water levels! In the Spring the opportunities to paddle are most prevalent. Fishing the Little Schuylkill River while kayaking is definitely a treat. But, be very careful because it is often that new trees come down on the river. So, be very careful when going around turns. Tight Turns on Small streams can create what is called a "Bank Sweep" where the current pulls you into the banks around the turn. So if you would like some consultation on Kayaking the Little Schuylkill, call us at 484-335-8883
Click Below to Follow!
Looking for a Guided Trip or Lesson??
Written By: Kevin Moriarty | Owner & Guide of Top Water Trips