Fish, Tour, Kayak or Camp...
Team Building Fishing Trips & Tours
Looking to take your team on a Fishing Trip, Kayaking Adventure, or Camping Trip, and try to bring them together? Top Water offers special discounted pricing to, student groups, small businesses, corporations, and groups alike when booking for 5 or more people with booking up to 10 people! Call today to book your adventure! Team Building Trips are available all year round!
Kayak Fishing Trips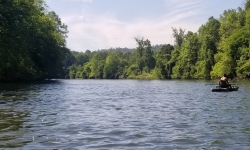 Read More...
Kayak Fishing Team Building Trips
1/2 Day & Full Day Trips
Up to 10 People
Team Building Kayak Fishing Trips on The Schuylkill River aim to serve everyone and anyone Our Group-oriented Kayaking Trips are all-inclusive and invite Kayakers & Anglers of all experience levels. Kayaking & Fishing lessons are infused & inherent within our trips on the Schuylkill River. Whether you're looking to bring your team together, figure out who's a leader, or just treat your team to a Kayak Fishing Trip for all their hard work.
Call Today For Your Pricing
Team Building Camping Trips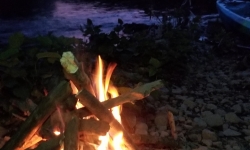 Read More...
Take Your Team Camping. Schuylkill River Team-Building Camping Trips with Top Water aim to be boundary-pushing, challenging, and fun. Camping and Kayaking along secluded waterways afford individuals and groups the opportunity to come together. With specific challenges built into the trip, this team building exercise is all inclusive and invites individuals of all experience levels and abilities. Camping Trips are available for Full Weekend Opportunities & 1 Night Trips.
More About Team Building Trips
Along the way, your guide will at times be taking a backseat as 'Trip Leader' and invite other members of the group to direct, lead, and coordinate the trip. Your Guide, Kevin Moriarty, is also a ServSafe Certified Personal Chef & Owner of Top Water Cooking. So, during our trip, we will be building fires and cooking meals. This is another time when your guide will be stepping back and allowing members of the group to build the fires, prepare food, collect & chop wood, etc. Your guide will, of course, be adding instruction and input to certain aspects of these activities in order to assure safety, fully cooked meals, & training within these disciplines. Fishing along this trip is very much encouraged! Your Guide is a Professional Kayak Angler & Fly Fishing Guide, so we will also be providing kayak/fishing instruction and application during our trip.
Fly FIshing Trips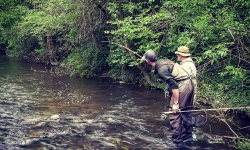 Read More...
Take Your Team to the backcountry…
1/2 Day & Full Day Trips
Overnight & Camping Trips
Up to 4 People



More About Team Building Fly Fishing

Treat your team to a Fly Fishing Trip in Southeastern or Central Pennsylvania. Check Our Waters to find your trout stream to Fly Fish. In addition to Our Waters we would suggest these waters for this trip The Little Schuylkill, Penns Creek, French Creek, & the Tulpehocken. These waters offer us a chance to get everyone on the water and in a spot to catch some trout. Fly Fishing Lessons are infused and inherent within these trips. We will cover all the necessary safety principles of Fly Fishing and Wading. Moving water always adds an extra element to Fishing. At Top Water, were experts on the water. In addition to our expertise we have Special pricing for our Team Building Trips. So, give us a call to find out more and put together your trip!
Tours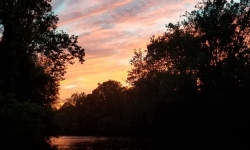 Read More...
Treat Your Work Team to a Kayak Tour of The Schuylkill River…
Half Day and Full Day Trips
Up to 10 People

These Tours aim to serve student groups, service groups, corporate entities, small businesses, and groups alike.So, take a Scenic Tour just about anywhere along the 120 Miles of the Schuylkill. We primarily guide in the areas of the river from Hamburg-Reading-Phoenixville. So, these Float trips are a great way to treat the hard work of your group/entity. Furthermore, the Schuylkill River is a beautiful waterway and has many hidden features that we would love to show you, so Book today with Top Water to find your float…
Contact today for Special Pricing
0