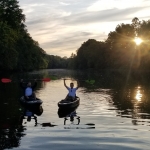 SCHUYLKILL RIVER KAYAK TOURS
Take a Guided Kayak Tour down the Schuylkill River to witness the beauty and nature of the Hidden River System.  Eagles, Blue Herons, Deer, Fish, and many species of wildlife call the Banks of the River Home. A Tour with Top Water offers the opportunity to enjoy these natural beauties to beginner and experienced paddlers.
LAKE KAYAK TOURS
Pick a lake in your area and well bring the Kayaks to you for a Guided Kayak Tour. Or book with us to Kayak our local lakes for Full Moon and Constellation Tours
Looking for Lessons? Click here to learn more about Kayaking Lessons
More About Kayak Tours...
River Kayak Tours
Kayak Tour Durations are optional- they usually go 3-4 hours but can go as long as 7-8
We usually meet our clients at our endpoint
Then we will jump in the company truck and head up to our drop in point
At the Kayak Tour Drop In Location- we will go over our Tour Plan, Give a Brief Kayaking Lesson,
The we will drop in four our Schuylkill River Kayak Tour
Lake Kayak Tours
Lake Kayak Tours can be held on the Lake of your choice…
We most frequently do tours on Marsh Creek & Blue Marsh…But we are open to other Lakes as well!
We will meet at our drop-in and go over all of our information and plan for the tour
Then we hit the water for our Lake Kayak Tour
Fall Foliage Kayak Tour
Our Fall Foliage Kayak Tour on the Schuylkill River is a great booking for September, October, & November!
We run bookings throughout the Winter as well…
But a Fall Kayak Tour is remarkable and provides individuals with the opportunity to see Natures Beauty…
Our Fall Kayak Tour Process is the same as the River Kayak Tour listed above…