Native Slayer 12 Kayak Review
Our Rating for the Native Watercraft Slayer 12
Overall Rating- 8.1/10
Ease of Transport | 9.5/10
Ability to Customize | 7.5/10
Deck Space | 8.5 /10
Comfortability & Seat | 8 /10
Stability | 7.5 /10
Pricing | 8.5 /10
Tracking/Paddling | 7.5 /10
Ease of Transport
The Native Slayer 12 travels well, coming in at 30.5 Inches wide, 12′ 2″ in length, and just 62 pounds. The addition of the Keel Wheel is really helpful when moving to and from the car & boat ramp. Just be careful the boat doesn't roll back on you!
Ability to Customize
Despite being a discontinued model Native Watercraft still offers a number of customizing options. YakAttack also has many products that fit the Native Watercraft Slayer 12 Track rails along the front, side rails, and back hatch offering plenty of opportunities to customize.
Deck Space
The deck space is mostly rock solid! We are not always huge fans of the railed foot pegs that most boats offer. The plastic parts don't often hold up that long and can easily be broken. Although, the Native Slayer 12's footpegs for us have held up just fine after years of rough servicing.
One thing we have noticed is a small bit of sun warping in the front and rear store areas. If you keep your kayak inside you should not have to worry about this. Secondly, the small bit of sun damage is from EXTENSIVE use on the water. This boat has seen years of long days out on the water. So, recreational users able to store their boats inside this should not be a problem.
The Front of the Slayer 12 has a recessed storage well that works great and can fit most of your light items. The rear store is a bit shallower but has plenty of room to fit a large cooler, tackle bag, or whatever you need to bring! It's 12ft 2in long so there's plenty of space!
Comfortability & Seat
The Native Seat has held up very well over the years. We have not had to replace any screws or bolts on the arms of the seat. The seat back is also slightly angled back which allows for comfortable seating when out on the water all day.
The Rod holders behind the seat are easy to reach as well as the rear Hatch. The front storage well can be harder to reach when floating
Stability
The Native Watercraft Slayer 12 is 30.5 Inches Wide. Standing and fishing in this Kayak can be difficult for those lacking experience and/or balance. An extra couple of inches of width makes a huge difference for standing. Smaller and lighter persons should have no problem standing. But if your, stability is questionable, to begin with then we would suggest a wider boat! In conclusion, if you're taller than 6'1″, struggle with balance, or are a heavier person, pick a wider boat.
The Slayer 12 runs narrow, like a submarine, which helps it cut through the water fairly well relative to wider boats
Pricing
The original MSRP was around $1,300. Since this model is you would be looking at purchasing a used Kayak. So, with that in mind, if you can find this boat used for between $600-$700 that would be a great deal! The Hull and boat itself can last a lifetime if taken care of and stored properly. But, depending on the condition, anything under $800 should be fair for just the boat!
Tracking/Paddling
The front of the Kayak is mighty thick, and firm, and can handle any rocks, sharp or smooth, you'll come across. But, it is definitely "front heavy," and getting this boat up and moving can be difficult at times. Although, once up to speed it tracks straight fairly well for experienced and inexperienced paddlers.
Whether you're seated in the low or high position you'll have no problem with arm clearance for paddling. There is plenty of room to make deep, firm, and consistent paddle strokes. Reverse strokes will bring you right to a halt when up to speed. The overall weight of the boat is on the low end making it easy to stop or slow down. The Slayer also holds up fairly well in the wind!
We Hope you enjoyed the Native Watercraft Slayer 12 Kayak Review!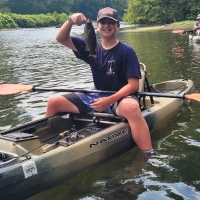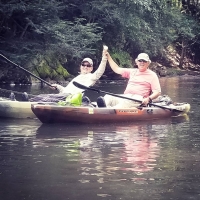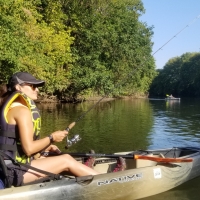 How We Rate Kayaks
We review & rate Kayaks based on our experience with them on Privately Guided Trips & Lessons on Rivers and Small Streams in Pennsylvania. We only rate Kayaks that we have had in our Fleet and used on the water for at minimum, 1 Full Year. Our client's responses, comments, & overall experience with each Kayak are also factored into our ratings.
One of our Goals is to provide unbiased reviews as we are not paid to write these. With each rating, out of 10, we explain in further detail the pros and cons of that rated section. Finally, we hope you enjoy these reviews as they are provided solely to help you find the right Kayak for you! Feel free to call or email if you have any questions or need help finding a boat!
Kevin Moriarty | Owner & Guide
484-335-8883
Topwatertrips@gmail.com
A quick Note About Us
Top Water Trips is a Private Fishing Charter & Guide Service in Southeastern Pa. We offer Fly Fishing, Spin Fishing, Kayak Fishing Trips & Lessons, Boat Fishing, & Wading for Trout, Bass, Musky & Catfish.