A.T.A.K. 140 Kayak Review
Our Rating for the A.T.A.K. 140
Overall Rating- 8.5/10
Ease of Transport | 6.5/10
Ability to Customize | 8.5/10
Deck Space | 8.5/10
Comfortability & Seat | 9.5/10
Stability | 9.5/10
Pricing | 8.5/10
Tracking/Paddling | 8.5/10
Specs
BOAT WEIGHT: 86 LBS. / 39 KG
WIDTH: 34″ / 86 CM
LENGTH: 14′ 1″ / 430 CM
DECK HEIGHT: 15.5″ / 39 CM
MAX CAPACITY: 550 LBS. / 250 KG
Ease of Transport
The Wilderness Systems Advanced Tactical Angling Kayak 140 is a monster. It can be difficult to move around and a trailer is advised for this 14ft behemoth. With that in mind, if you are comfortable with that you'll love this boat! At 86 Pounds unloaded, transporting this boat feels like moving absolute dead weight. Luckily, there is plenty of room in the rear to fit a kayak cart to help. In Conclusion, without a trailer, you may have a tough time with the weight of this boat, especially once it's fully loaded. So, get a trailer and a kayak cart and you'll be in good shape for the  A.T.A.K. 140 Kayak
Ability to Customize
The Boat has a ton of Options for customizing! If you want to add a trolling motor; they have plate kits available for you to easily add on to the rear of the boat. Additionally; if you wanted to add a fish finder the Flex Pod offers a safe place for electronics, small batteries, etc. And finally, the Helix HD Motordrive that can be added to the A.T.A.K. 140. This small motor is 15 pounds and can get you up to 6mph in your kayak. Youll be flying around the lake in this kayak, but with a price of over $2,200 you'll definitely pay a high price for adding this option to your A.T.A.K.
Deck Space
The deck and top area has plenty of space. There are not any flush mount rod holders in this boat but the area behind the seat has room for a Kayak Crate to handle rod storage. The Front Hatch should keep your equipment mostly dry. The front storage hatch leaves us wanting a little bit more out of the front section; maybe more gear tracks running along the edges or just an open bay section for quick access during trips. The footpegs are well made and have held up over a number of years.
Comfortability & Seat
The A.T.A.K. 140 AirPro Max Seat is built for all day comfort! You will love this seat as it offers a high, low, & reclined position for whatever you'll need during your outing. In addition to these 3 positioning; you wont need any extra clipping, strapping, to loosening to adjust these seats!
Stability
This boat is very stable. We've found that standing, moving around the deck space, and getting up and down is no problem at all in this boat. Reaching or turning to the rear of the boat shouldn't increase your heart rate all all! The deck pads are slip resitant and will provide a great platform for all day comfort and safety while standing and fishing.
Pricing
Coming in at a base price of $1,649 this 86 Pound, 14ft Monster Yak brings a lot to the table. With its ability to customize and the range of water it can handle, we think that what it can offer is worth the price for seriousor Kayak Anglers. Newcomers to the space looking to dip their toes in the water of fishing kayaks may find this price to be a little steep. Any experienced angler looking to up their game, fish tournaments, add motors and/or propulsion systems will like this Kayak.
Tracking/Paddling
This boat holds up very well during windy days and can handle Class I River Rapids with no problem. But, if the River your fishing is a bit more extreme and requires more technical paddling, this boat will be too long and heavy. It paddles very well across lakes and the High Seat position isn't too high that paddle strokes are difficult. The comfortable AirPro Max Seat and solid footpegs make paddling comfortable and easy! Despite being comfortable to paddle, this boat can be tough to manage in small currents. It can be very hard to turn or adjust so we suggest not using this boat if you plan on paddling fast-moving rivers.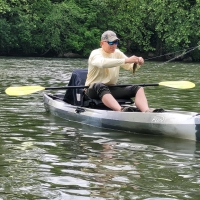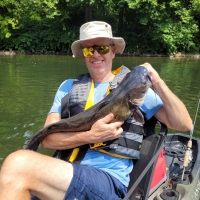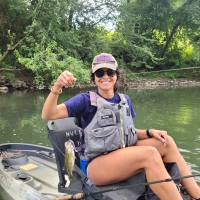 How We Rate Kayaks
We review & rate Kayaks based on our experience with them on Privately Guided Trips & Lessons on Rivers and Small Streams in Pennsylvania. We only rate Kayaks that we have had in our Fleet and used on the water for at minimum, 1 Full Year. Our client's responses, comments, & overall experience with each Kayak are also factored into our ratings.
One of our Goals is to provide unbiased reviews as we are not paid to write these. With each rating, out of 10, we explain in further detail the pros and cons of that rated section. Finally, we hope you enjoy these reviews as they are provided solely to help you find the right Kayak for you! Feel free to call or email if you have any questions or need help finding a boat!
Kevin Moriarty | Owner & Guide
484-335-8883
Topwatertrips@gmail.com
A quick Note About Us
Top Water Trips is a Private Fishing Charter & Guide Service in Southeastern Pa. We offer Fly Fishing, Spin Fishing, Kayak Fishing Trips & Lessons, Boat Fishing, & Wading for Trout, Bass, Musky & Catfish.
Follow Us | Facebook | Instagram