Book A Kids Kayak Lesson, Adult Course, or Both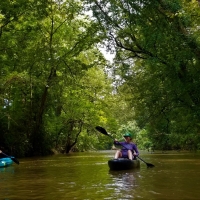 RIVER KAYAKING LESSONS
River Kayaking Lessons for Class 1-2 River Systems
All Necessary Gear & Gear Instruction will be provided on-site/on-water
River Reading & Decision Making are a Very Important part of the lesson
For Kayak Fishing Lessons Click Here
Lake Lessons
Take Your Lake Kayaking Lesson on a lake of your choice! Check out Our Waters to find a lake near you that we teach on. Ask about Kids Kayaking Lessons!
Introduction to kayaks and basic equipment
Entering, exiting, and maneuvering the boat
Basic paddle strokes
RIVER KAYAKING TIPS
GET EDUCATED
Call the local livery to see if they offer guided trips or get in touch with a kayak school for some beginner river kayaking lessons.
 RIVER READING
When beginners look at a river, many see just a river, and not its unique paths and routes. But with some training, you'll be able to recognize changes in current from afar, submerged rocks and trees (strainers), and places where it's safe to rest and regroup (eddies are usually a good spot).
TAG-ALONG
If you're paddling a river for the first time, go with a friend who has paddled the river before. Whether or not they're an expert, you can at least rely on them for the inside scoop as you paddle.
CHECK THE WEATHER BEFORE YOU GO
FERRY GLIDING
Ferry Gliding is a skill useful in whitewater paddling and recreational boating which will increase your control over the river. Perfecting this technique will allow you to move across the river without being carried downstream…
To Learn More About Kayaking Lessons & Kids Kayak Lesson Give us a call and book your Lesson
Want to learn how to Kayak Fish or Kayak Fly Fish?