Our Rating for the Vibe Yellowfin 130T
Overall Rating- 6.7/10
Ease of Transport | 5/10
Ability to Customize | 6.5/10
Deck Space | 6.5/10
Comfortability & Seat | 6.5/10
Stability | 8.5/10
Pricing | 7.5/10
Tracking/Paddling | 6.5/10
Specs
| | |
| --- | --- |
| Length | 13′ |
| Width | 35″ |
| Capacity | 500 pounds |
| Hull Weight | 77 pounds |
| Fully Loaded Weight | 99 pounds |
| Paddlers | Two-person tandem kayak + center seat for child or solo paddling |
| Material | Rotomolded single piece high-density polyethylene |
| Package Includes | x2 Vibe Hero Seats |
Ease of Transport
Coming in at 13′ long the Vibe Yellowfin 130T is a big girl. Two people may be required to get this kayak on top of a vehicle as it is front and back-heavy making it a bit hard to get up off the ground. At 35″ wide this boat should fit just fine in most J-Racks on the market. A Kayak Cart is advised or having 2 people to help transport, which is likely as many use this boat in the Tandem Configuration.
Ability to Customize
In the Solo Configuration, you have a number of options to customize. There are Gear Track Rails in the front and rear, 2 Flush Mount Rod Holders, Front & Rear Kayak Storage, & Accessory Base Mount. The Rod holders are great for Tandem but in the solo configuration, they are nearly impossible to reach because of how far back they are positioned. In solo, there is plenty of room to add whatever you'll need for a day of fishing. In the tandem setup, there is plenty of room for both to be fishing at the same time, just be careful when casting from the front position so that you don't hook your fellow passenger!
Deck Space
The Deck Space has just a few minor issues. Firstly, the footpegs become a little loose and bendy over time, so make sure you keep an eye on them if they start to bend out a little bit. In spite of that small detail, they have held up strong over lots of wear & tear. Secondly, the deck space is a little soft and raised around the two center hatches. We have not seen any significant warping in this Kayak which is a great sign. But, water seems to pool up around the edges and compartments of the boat during a day of paddling. This is because the Scupper holes aren't able to collect and discharge all of the water properly. The assets of the boat can also lead to some minor liabilities.
To highlight this let's take a look at the seat configurations: front, rear, and middle. Having 3 seat options is a great feature but comes with a caveat; the deck has a lot of hardware, bungee cords, seat pockets, and seat rails.
Comfortability & Seat
The Original Vibe Hero Seat is comfortable but has not held up very well over time. We have had to replace a number of bolts and lock nuts for the Original Seat. But, the 2.0 Hero Seat is definitely an upgrade from the original and is holding up much better, get it if you can!  In addition to those nuts and bolts; the hardware that keeps the seat fastened to the boat is recessed and water pools in those spots. It pools where the seat bungees and hardware meet. This pooling can cause the bungees and hardware to deteriorate faster than normal, so keep your eye out for this. Overall, we really like the Vibe Seats. But we have found just a few things that need to be fixed over time and some general maintenance that comes along with the seats.
Stability
The Vibe Yellowfin 130 Tandem has plenty of stability for full days out on the water. In the Solo configuration, you have the ability to stand relatively comfortably. In the Tandem configuration, we suggest staying seated for the day. Although, if you have a small child In the front and they are comfortable with standing they should be okay to do so. But, make sure you test that out in a safe place before out in the middle of a river or lake and wearing a life jacket like always. These boats aren't impossible to flip but difficult.
The only time when we've seen one flip was from a user error. They had their boat loaded up with too much gear and didn't straighten out before going down a rapid. Consequently, they broadsided a rock and took water over the low-riding middle section of the kayak. We think you'll find this boat plenty stable for most applications out on the water.
Pricing
Coming in at $1,299 the pricing for this Tandem Kayak is relatively fair in the 2022 Market. If it were priced higher we would say it's a tad bit overpriced. But, per usual, pricing is relative and everyone will perceive numbers differently. We think it's fair because of how it's made, rotomolded single-piece high-density polyethylene. The sheered front and back ends are battering rams and the hull can handle years of sharp rocks, scrapes, sun exposure, and transportation. These boats are built to last and because of that, we think the pricing is fair.
Tracking/Paddling
At maxed-out capacity, you will have a bit of a hard time maneuvering the Vibe Yellowfin 130T. Stopping on a dime, quick turns, and technical paddling are not to be expected with this Kayak. But, if you are here to consider purchasing this Vibe that is likely not what you are looking for nor should you be expecting from a 13ft Tandem Kayak. This Kayak handles Lazy Rivers very well, its Sheer Front and Aft make it great for handling small to medium size rapids and bounce of rocks fairly well. This boat can be difficult to manage if you get pinned on a rock. Because of how heavy and hard to move it can be,  make sure you stay straight and steady while going down rapid sections that get shallow.
The seats are spaced well enough that paddle clearance will not be a problem when operating in the tandem configuration. In the solo configuration, it handles and paddles much easier. Finally, we suggest that the primary paddler of the boat be in the rear position when in tandem.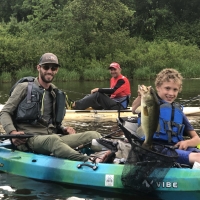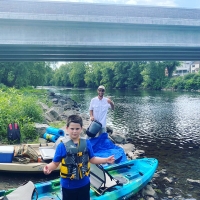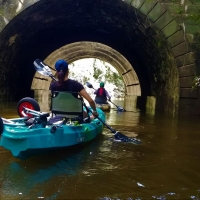 How We Rate Kayaks
We review & rate Kayaks based on our experience with them on Privately Guided Trips & Lessons on Rivers and Small Streams in Pennsylvania. We only rate Kayaks that we have had in our Fleet and used on the water for at minimum, 1 Full Year. Our client's responses, comments, & overall experience with each Kayak are also factored into our ratings.
One of our Goals is to provide unbiased reviews as we are not paid to write these. With each rating, out of 10, we explain in further detail the pros and cons of that rated section. Finally, we hope you enjoy these reviews as they are provided solely to help you find the right Kayak for you! Feel free to call or email if you have any questions or need help finding a boat!
Kevin Moriarty | Owner & Guide
484-335-8883
Topwatertrips@gmail.com
A quick Note About Us
Top Water Trips is a Private Fishing Charter & Guide Service in Southeastern Pa. We offer Fly Fishing, Spin Fishing, Kayak Fishing Trips & Lessons, Boat Fishing, & Wading for Trout, Bass, Musky & Catfish.
Follow Us | Facebook | Instagram