Kevin Moriarty
Pennsylvania Fly Fishing Guide
Owner, Guide, & Instructor of Top Water Trips
Your Pennsylvania Fly Fishing Guide
My Favorite Water to Fly Fish
The Little Schuylkill River
The Little Schuyk is my personal favorite trout stream to Guide. Many of its sections offer private, hike-in, & rarely-fished pockets of water.
The Manatawny Creek
I grew up fishing the Manatawny and it is one of my "home" waters. This small stream offers a wide variety of sections from rolling meadow flats to tight & rocky runs. The Sulphur hatches on this stream are an event not to be missed!
The Tulpehocken
Tulpehocken Creek is a heavily fished tailwater located right on the edge of Reading, Pennsylvania. This tailwater is a Keystone Select Trout Stream and provides a wide variety of Hatches throughout the year. From Caddis in the Spring, Tricos in the Summer, to Midges throughout the winter; Tully's hatches can be hard to dial in but once they are it is an extremely rewarding stream to fish!
Why I Love Guiding
Being a Fly Fishing Guide is a lot more than fishing all day! I typically don't fish as much as people would expect. When it comes to Guiding Fly Fishing Trips you have to be flexible and very patient! Every Angler is in different places, and experience levels, and looking to get something different out of a lesson or guided trip. So, learning what a client is looking for is very important when providing instruction.
Family, Friends & Loved ones…
What makes being a Fly Fishing Guide so fun is that I get to share, experience, and learn along with the individuals I take out. My fishing experiences growing up have always been centered around family. Our extended and immediate family use to vacation together every year to Canada for a few weeks to fish. These were formative experiences for me and laid the groundwork for my perspective on fishing. I believe fishing is best experienced with others, family, friends, & loved ones! Which is one of the major influences on my wanting to guide. I have spent plenty of time fishing alone and I find I always have more fun with other people!
Why be a Fly Fishing Guide in Pennsylvania…
The other major aspect of my desire to be a Fly Fishing Guide is the amazing water we have in Southeastern Pennsylvania. The Schuylkill River System is my absolute favorite and has so much to offer. Many have written it off due to pollution in its lower sections near Philadelphia. But, the Upper & Middle Sections offer stretches of river that are unparalleled in terms of beauty in PA. The fish are also incredible! We are so fortunate in PA to have so many small medium & big streams that offer beautiful & healthy fish in droves!
So, to wrap this up, I just flat out love being on the water and with people willing to learn, have fun, and spend time with friends & family. Friends and Family are at the root of my upbringing when it comes to fishing and my goal is to offer a service that provides others the same opportunity I had growing up!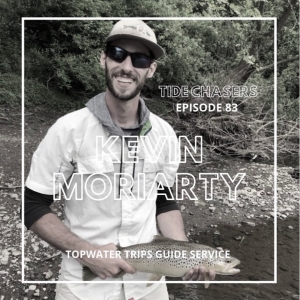 HBO | Additional Works...
I was very fortunate to consult and offer Lessons for the Philadelphia Area filmed critically acclaimed HBO Show Mare of Easttown. I gave private lessons on-site for the actors and was there to help with scene filming to make sure we had as accurate of a representation as possible. It was a great experience and I am so happy I had the chance to work with some great actors who were fully engaged during instruction. The staff and Prop Department were also fantastic as we collaborated to ensure gear, lures, rods, etc were all properly put together and in order!
Listen
Take a Listen to our Appearance on Tide Chasers Podcast!
Our Pa Fly Fishing Guide Services