NuCanoe Classic Kayak Review
Our Rating for the
Overall Rating- 6.9/10
Ease of Transport | 5/10
Ability to Customize | 7.5/10
Deck Space | 7.0/10
Comfortability & Seat | 5/10
Stability | 9.5/10
Pricing | 7/10
Tracking/Paddling | 7.5/10
Specs
Classic 10
Classic 12
Length:
10′
12′
Width:
42″
42″
Capacity:
450 lbs
525 lbs
Draft:
4-6″
4-6″
Hull Weight:
59 lbs
77 lbs
Max Power:
2 HP or equivalent
Ease of Transport
The NuCanoe Classic is 42″ Wide making it a little difficult for smaller cars & Sedans to move around depending on your roof rack setup. Laying flat on top of your roof rack will be your best bet if you don't have a kayak trailer. Large J-Racks should be able to handle its width but smaller-cheaper J-Racks likely won't be able to handle its width for transport. Around the ramps, along small trails, and to and from the car this boat glides around easily. It's balanced very well and you wouldn't think the Classic 12 weighs 77 lbs because of how well distributed the weight is. We've been on many boats that are heavy in the front and back making it a bit harder to lift and move around. The Classic 12 is suitable for multiple people so, take advantage of the front and rear handle straps when handling!
Ability to Customize
The NuCanoe Brand and Customization are essentially synonyms. The newer models boast many options for ultimate customization. However, the NuCanoe Classic, have just slightly fewer options than the newer models, which is to be expected. Nevertheless, the Classic Models have plenty of Add-Ons to make this Boat best suited for you! Despite not having any gear tracks you can add propulsion systems, small HP motors, rod holders, and add up to 3 bench seats. But if you are a hardcore fisherman or woman looking for  we might suggest the NuCanoe Flint or Frontier 12
Deck Space
The Deck Space is open and has a tunnel-style channel running right down the middle. The boat has no footpegs for paddling so finding leverage can at times be difficult, luckily this boat is easy to paddle. Although when multiple people are in the boat it can be tough to find places to stretch or put your legs out. Despite it being wide open it can feel crowded after adding a small cooler, paddle, lifejacket, 1-2 fishing rods, and a tackle box or bag. If you are alone in this boat you'll have plenty of space. We find the deck space and legroom ideal for 2 kids, one adult, or one adult and 1 small child. These seem to be the best configurations and seating options for the deck space available.
Comfortability & Seat
The Bench seats from NuCanoe can be a little rough after a long day on the water. If you are looking for a Seat you will want to upgrade to the Classic Swivel Seat Mount, unfortunately, this product is discontinued… So, if you are okay with having no backrest on the bench seats and sitting Canoe Style when paddling you'll be okay! But, getting an upgrade or alternative for the Bench Seat would be ideal and increase comfortability exponentially.
Stability
For sitting, fishing, rivers, lakes, small streams, adults, & kids this boat is nearly impossible to tip. On the water, we often joke that you have to be trying to get this boat to flip, and if you do flip it, we'll be impressed! Standing is a little out of the equation for this model NuCanoe. You can stand if you are in this boat alone, centered, and with your feet pressed along the outer edge of the upper section of the boat. But, the Classic is not meant all day standing. It does rock back and forth a bit down rivers when in rapids and reminds me of a drift boat at times. This Boat bounces off of rocks easily but can get a bit tippy at times. This tippy feeling is just that, it rocks back and forth fairly easily in the water but is still virtually un-flippable.
Pricing
For the NuCanoe Classic 10′, you're looking at an MSRP of $699 and for the Classic 12′ an MSRP of $799. Not bad! We like these boats a lot and find them to be a great intro boat! This boat is great for a nice easy float down a lazy river or a nice paddle out on the lake! Or, keep it at your cabin/lake house, it's a great boat that anyone can jump in and use anytime intuitively! This boat can be tough to categorize because it has elements of a Canoe, Kayak, & drift boat all wrapped into one. So, relative to other kayaks, boats, and water vessels we try to put the NuCanoe Classic in a realm of its own when categorizing boats, canoes, & kayaks!
Tracking/Paddling
This NuCanoe Classic turns on a dime. Despite being 42″ wide it has remarkable turning ability and glides smoothly in the water. You would think being 42″ wide would make it hard to adjust, turn, and maneuver but it is fairly easy, even with multiple people. The Sheer forward and sheer aft help give the boat buoyancy and speed when going through rough water, rapids, and windy days! One thing we're missing with this boat is somewhere to put your paddle when you are fishing. Luckily, you can add a paddle strap, clip, mount a paddle keeper, or just set it on your lap. In conclusion, this boat handles, paddles, turns, and glides extremely well in the water for being 42″ wide! You will be pleasantly surprised!
Overall Assessment
We like the NuCanoe Classic but it has its limitations. This boat reminds me of a family-style boat that anyone of any skill level can jump in and use to paddle around the lake or float down a small & lazy river. It's comfortable enough to stay a day in and the boat is made rock solid. It handles currents well but lacks some storage space, paddling leverage, paddle keeper, and rod holders. Fortunately, you can add many of these things with NuCanoe Accessories except for the upgraded seat. We would love an upgrade or re-continued 360 Seat for the NuCanoe Classic!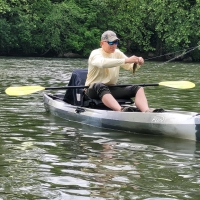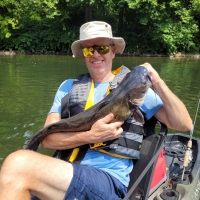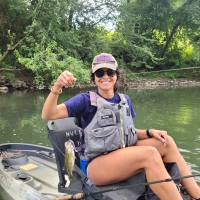 How We Rate Kayaks
We review & rate Kayaks based on our experience with them on Privately Guided Trips & Lessons on Rivers and Small Streams in Pennsylvania. We only rate Kayaks that we have had in our Fleet and used on the water for at minimum, 1 Full Year. Our client's responses, comments, & overall experience with each Kayak are also factored into our ratings.
One of our Goals is to provide unbiased reviews as we are not paid to write these. With each rating, out of 10, we explain in further detail the pros and cons of that rated section. Finally, we hope you enjoy these reviews as they are provided solely to help you find the right Kayak for you! Feel free to call or email if you have any questions or need help finding a boat!
Kevin Moriarty | Owner & Guide
484-335-8883
Topwatertrips@gmail.com
A quick Note About Us
Top Water Trips is a Private Fishing Charter & Guide Service in Southeastern Pa. We offer Fly Fishing, Spin Fishing, Kayak Fishing Trips & Lessons, Boat Fishing, & Wading for Trout, Bass, Musky & Catfish.
Follow Us | Facebook | Instagram