Fly Casting Lessons
We provide Private Fly Casting Lessons to Adults & Children of all ages & experience in Southeastern Pennsylvania!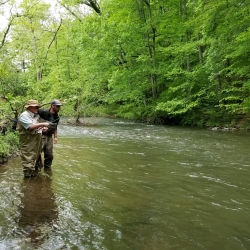 The art of Fly Casting  appears to be difficult and intimidating to learn and implement. We at Top Water beg to differ. We offer Beginner Fly Casting Lessons on the Lawn and on the Water. Our Casting lessons generally last 2-3 hours and cover all the basics. Beginner Casting Lessons are aimed at giving clients a cast that they can use on the water and catch trout with. The classic forward cast, the roll cast, line management, and mending are most common casts/techniques we will cover in our introductory lesson.
TWT Fly Fishing School offers Advanced Lessons On Waters in Pennsylvania (Philly, Lehigh, Lancaster, Delco, Chester, Berks, Schuylkill Areas) Our Advanced Casting Lessons will be on the water. After developing a basic cast in our beginner lesson, learn to Double Haul, Roll-Cast, Reach Cast, Pile Case, Mending, & More! Advanced Casting Courses will also cover how to deal with wind, trees, and tight casting quarters!
Fly Fishing School's by Top Water Trips
Your Casting Instructor