Hay Creek Fly Fishing Report
    Hay Creek is a small tributary, of the Schuylkill River that is roughly 13 miles long and meets the Schuylkill River in Birdsboro, Pennsylvania. Located in Berks County, this Class A Recognized Trout Stream boasts nice pocket water, yearly stockings, and many hidden holes filled with Wild Trout.
Where to Start (Middle Section)
When looking to get a start on Fly Fishing Hay Creek, most would suggest starting in Rustic Park. This part of the stream gets a lot of fishing pressure during the opening weeks of the season, but the Park has a number of holes between the downstream Hay Creek Road Bridge and the parking lot. It is also a great place for kids to learn to fish as most of the Fly Fishing can be done from the bank. During Late Spring and Summer, this is a great area to do some dry fly fishing with small size 18-22 Mayfly imitations. This stretch of water can also be productive for tight-line nymphing techniques given that most of the trout here hold in fast and shallow runs, quick turns, and short riffles.
Upper End of Hay Creek
Fishing Hay Creek in this section provides a more mountainous feel and experience. Wild Trout reign supreme in these upper sections. A great place to start would be here, at the Old 82 Parking Area. The upper end will require a lot of stealth and precise casting to produce Trout to the net. Identifying submerged rock holds, small drop-offs, and rock walls will be your go-to in the Upper Half. You may be surprised by the places trout will hold in this section. Wider sections of the creek
Lower End
Fishing Hay Creek on the lower end provides a stocking location by the bridge near the HC Snack Shack, parking can be found by Sals Pizza on Water Street right HERE. This stretch of water runs right through the heart of Birdsboro. Parking behind the Matthew Brooks building behind the Car Wash offers some rarely touched holes for Wild and Holdover Trout as you make your way to the Schuylkill River.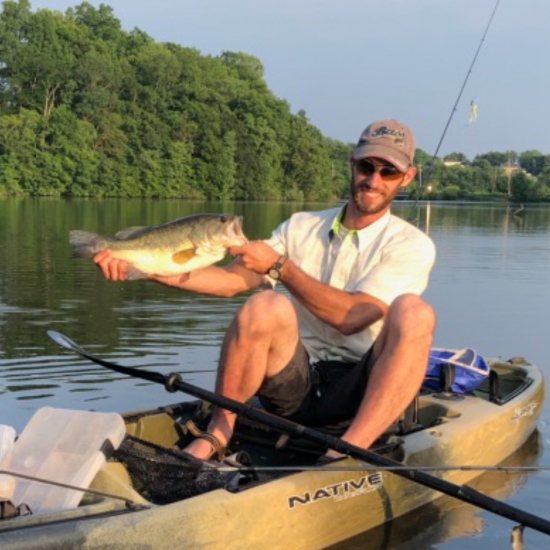 Kevin Moriarty Professional Guide, Chef, & Owner of Top Water Hello, my name is Kevin Moriarty! I grew up on the edge of the Oley Valley and spent most of my time fishing with my dad. He introduced me to fishing, just as his father did for him.  My good friend Jesse introduced me to fly fishing; he laid the groundwork…